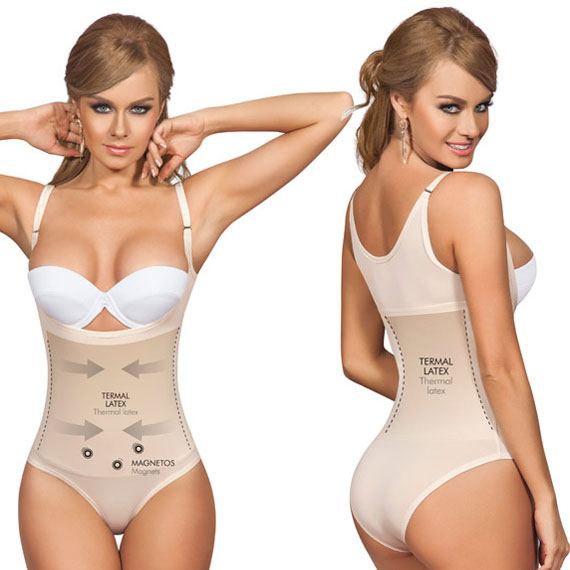 Descripción: Body de máximo control reduce una talla con la postura, tiene una banda de control medio que moldea, de triple acción de 360º, y estiliza la figura, mejorando la postura. Sus 3 magnetos están distribuidos en el área abdominal que controlando el tejido adiposo disminuyendo dolores e inflamaciones. Con el uso continuo del body alcanzará los resultados deseados reduciendo medidas, mejoran la postura, previniendo la aparición de estrías. Broche en la entrepierna. No abrochadura, Senos libres. Tirantes ajustables. Esta faja te brinda la mejor modelación con máxima comodidad. Uso diario. Muchas mujeres lo usan diaramente para tonificar y reducir cm's de su cintura mientras esta en uso.
Color: Piel
-Estilo Panty Reductor
-Silueta Modeladora para maximo control de abdomen y cintura
-Elaborado en lycra para garantizar una talla chica
-Broches ajustable en la parte de abajo de la faja
-Usar todos los dias para mejor resultados
-Uso diario, Fajas post-parto y modeladora
RECOMENDACIONES:

•Se debe comprar la misma talla del pantalón.
•Utilizarla desde el momento de la cirugía.
•Hidratar muy bien el cuerpo.
•Cuando sede la inflamación la faja debe ser reducida en una talla que es la que la prenda lo permite.
•En el momento de la postura la piel debe estar totalmente limpia de todo jabón quirúrgico.
•Lavar a mano, usar jabones suaves, secar a la sombra y no retorcer.

Ref. # 2005
RETAIL PRICE: $75.00
SPECIAL PRICE $60.00
YOUR SAVING: $15.00
2XL = $65.00, 3XL = $70.00
Description: Maximum body control reduces a size with the position, has a band of molding control medium, 360 triple action and shape the body, improving posture. Its 3 magnets are distributed in the abdominal area that controlling fat reducing pain and inflammation. With continued use the body achieve the desired results reducing measures, improve posture, preventing the appearance of stretch marks. Snap crotch. Braless. No closure, Adjustable Straps. This girdle offers the best modeling with maximum comfort. Daily use. Many women wear daily to tone and reduce cm's on your waist during use. COLOR: Nude
-Daily Use
-Post-Partum
-Panty style
-Snap crotch.
-Braless.
-Shaping Girdle.
RECOMMENDATIONS:
•Use the same pants size
•After surgery, use immediately.
•Always keep hydrated.
•When inflammation decreases, reduce one girdles size.
•Remove all the surgical soap before girdles use.Hand wash, do not bleach, do not dry, and do not twist